Reliable Power Infrastructure
Joe's Datacenter UPS's combine numerous technology advances and innovations to create a power system that combines high performance, compact size, reliability and cost-efficiency. We utilize two main UPS systems that are covered under a Vertiv 24/7 service contract for the UPS units and the batteries.
Vertiv NX 480 UPS
Scalable uninterruptible power supply that can detect and adapt to environmental power variations to maximize efficiency. True online double conversion UPS.
Liebert 600T UPS
The online double conversion topology of the Liebert Series 600 provides extreme reliability. With parallel-redundant capabilities and multi-module design, this UPS system is able to maintain clean, uninterruptible power.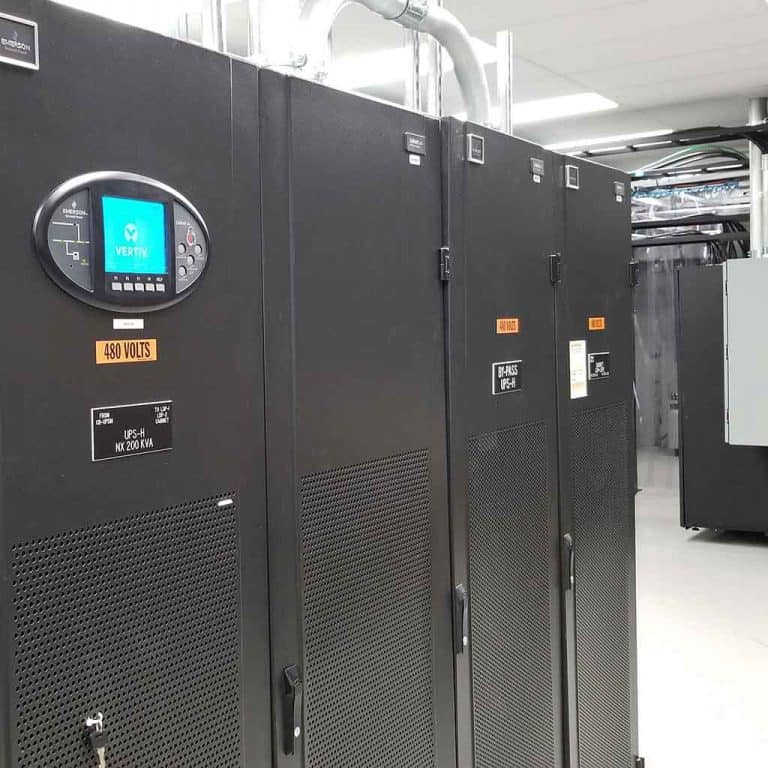 Joe's Datacenter has two generator backups to assure reliability and uptime. We perform monthly operational tests and have a service and support contract with Foley Equipment.
Generac SD0250 Power Diesel Backup
Gererac SD0250 13.3L engine rated 422hp at 1800 rpm, 400-amp main-line circuit breaker.
Detroit 12v-71 CT Diesel with Marathon Magna
The Detroit Diesel Series 71 is a two-stroke diesel engine series, 12-cylinder generator with a V configuration, 450hp, 14.0L (852 cu. in.) displacement.
Joe's Datacenter is powered by Evergy. Evergy is an American investor-owned utility with publicly traded stock that has headquarters in Kansas City, Missouri. The company was formed from a merger of Westar Energy of Topeka and Great Plains Energy of Kansas City, Missouri, parent company of Kansas City Power & Light.
Evergy has been expanding wind energy production in the Midwest for
more than a decade. With 4,600 megawatts of owned and contracted wind
generation, their wind portfolio helps fuel Kansas' No. 2 state ranking
for wind generation as a percentage of total generation.
Evergy meets a third of their residential and business customers' electricity needs with renewable sources.